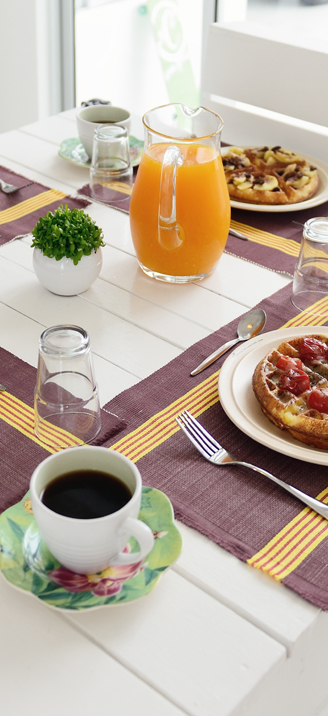 The message behind our vegetarian breakfast is that everyone can make an impact on the go-green movement in their everyday lives, since vegetarian food has a significantly lower carbon footprint than meat. But does it mean we have to sacrifice our taste buds for the environment? Not at all!

Rise and shine, and say "ah-h" as you inhale the aroma of two types of waffles (one savoury and one sweet) awaiting you at the breakfast table. Though availability depends on the season, fret not, as we assure you that every item on the menu tastes just great! Check out our full menu below and we are sure you would agree with us.


---
To complete your wholesome breakfast experience, we provide organic breakfast tea and freshly brewed locally grown Liberico coffee, together with fruit juice and "fruit platter of the day".
*Please enquire and pay separately
Tea
Starting your day with a cup of organic tea is not only better for health, but you would be supporting the organic agricultural method too, which is better for the environment as well. This is an example of how little pleasures in life can support big environmental concerns.
Coffee
Instead of the ubiquitous 3-in-1 coffee sachets, we go the extra mile by serving you freshly brewed coffee using the "sock". Drink it straight up or sweetened with milk and sugar. Either way, you will appreciate the mild acidity and pleasant aftertaste in your mouth.
---
Waffles
Our Belgian waffles are in a class of their own - crispy on the outside and airy on the inside. The batter is made with organic unbleached flour and yeast, and is prepared overnight for the yeast to yield its power. With its deep pockets, it can hold up more toppings and syrup than your run-of-the-mill types.
Sweet Waffles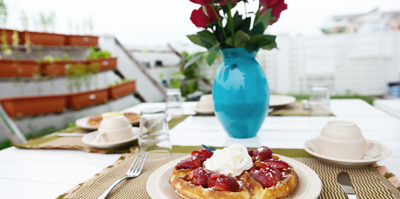 Macerated Strawberries with Whipped Cream
True to its roots, this is the most traditional topping, enjoyed by children and adults alike, both as a snack and at the breakfast table. The luscious ruby shade of strawberries after maceration tempts the beholder; the sprinkling of icing sugar and whipped cream atop complete the magic.
Homemade Chocolate Sauce with Toasted Almond Flakes
Chocoholics will fall for this concoction! Freshly toasted almond flakes looking pretty afloat a generous dollop of Homemade Chocolate Sauce - who could resist?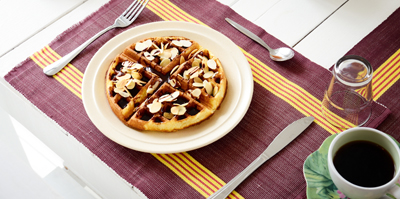 Caramelised Apples with Raisins & Cinnamon
Good ol' apple pies are a classic that never go out of style. Imagine combining the smoothness of golden, syrupy apple slices, with the natural goodness of raisins and cinnamon powder, served with our very own Belgian waffles, and there you have it - apple pie perfection!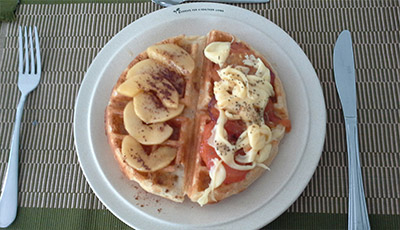 Maple Syrup with Butter
If you prefer to keep it simple, treat yourself to maple syrup drizzled over a piping hot waffle, accompanied by unsalted butter on the side.
Savory Waffles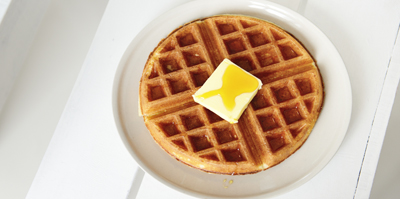 Pan Seared Tomatoes with Melted Cheddar Cheese
Tomatoes are seared in extra-virgin olive oil in a pan, before cheddar cheese is folded over, and then popped into the oven to melt. Such a rich and pure flavour!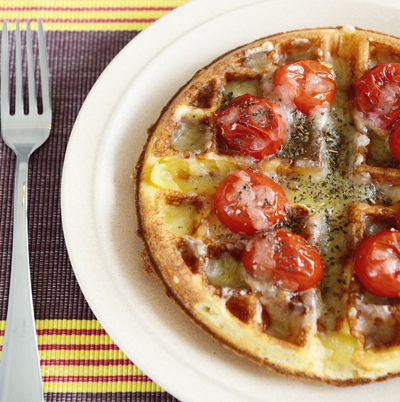 Sauteed Mushrooms with Baby Onions
Mushrooms and baby onions are tossed in warmed butter, then drizzled with Worcestershire sauce. The mixture of sweet, salty and sour flavours awaken your senses first thing in the morning!