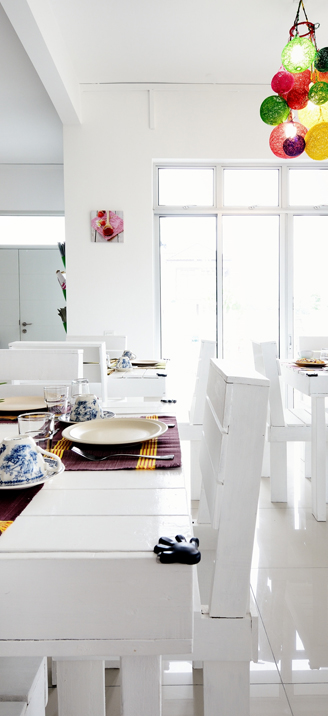 Guests have the whole room and the attached bathroom to themselves. Every room is equipped with a hairdryer, shampoo, body wash and fresh towels. A Labu Sayong on your side table offers refreshing cool water anytime of the day. Click on any of the rooms below to explore further.


In the common area, we invite you to check out
our hand made furniture
. This furniture is handmade by our dedicated staff. We have made a conscious
effort to be environmentally friendly
by recycling wood pallets from a local source and using paint that is low in VOC.
All guests are entitled to a complimentary
full vegetarian breakfast
. Vegetarian food has a lower carbon footprint than meat. After Breakfast hours, guests can help themselves to hot tea, coffee and lemon infused water throughout the day.
A locker will be assigned to each room for guests to store their valuables.